2/16/2017 Blair County has begun an initiative to train people with disabilities of any type on what to do in the event of an emergency or a disaster. A training is planned for Thursday, March 30, 2017. Along with the training is the completion of a form that will be registered with the 911 system so First Responders are aware when responding that someone with a disability resides at the residence.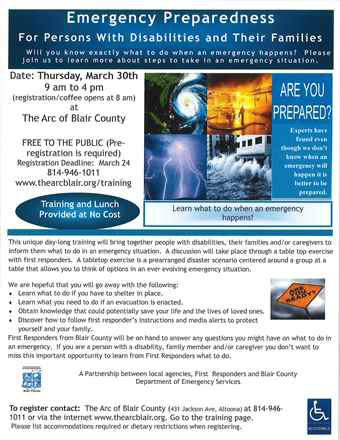 The training is a follow-up to an introductory overview that occurred last year. It is part of a collaboration conducted by representatives from Blair County's Emergency Management Department, Blair County Human Services Department, First Responders from different branches, and multiple health and disability agencies, including Home Nursing Agency.
A key component of the training on March 30 will be a tabletop exercise. A tabletop exercise is a small focus group conducting an ever evolving and worsening situation. First Responders will be at each table facilitating the mock disaster. This provides an opportunity for sharing perspectives between individuals, and their family members, on the needs of a person with a disability, and the thought process and risks First Responders face during an emergency.
This in-depth and interactive training will also cover topics such as a To-Go kit, amount of medication to be packed during a crisis, the average length of stay at a shelter, necessary identification documents listing your disability and vital information should someone become separated during a crisis and other important knowledge gathered from lessons learned of previous disasters in other parts of the country.
Blair County does a wonderful job of supporting individuals who have disabilities. However, many people mistakenly assume they will automatically be taken care of during a disaster or emergency. The goal of the training is to empower people to be their own advocate when chaos occurs. There are a lot of people who need assistance during disasters and the training will assist in avoiding a complacent attitude that 'someone else will take care of me or the situation'. For example, if electricity is lost and cell service is not available, is a plan in place for alternative communication methods?
There will be time before the conclusion of the training to speak with first responders about specific concerns and to ask questions. The goal is to be as prepared as possible with the hopes that your plan will never need to be implemented. A well thought-out plan will help to relieve anxiety and possibly save a life.
Again, this training is for people with disabilities of any type (mental, physical, intellectual, cognitive, developmental, behavioral or other, including temporary such as knee surgery) and their families. Agency staff and professional staff have already been introduced to the new initiative and will have separate trainings.
The date of the training is Thursday, April 30, 2017 at The Arc of Blair County. There is no cost and lunch will be provided. Registration opens at 8:00 a.m. and the first lesson begins at 9:00 a.m. To register, visit The Arc of Blair County website at www.thearcblair.org, and go to the training page, or call 814-946-1011.