3/29/2017 The planning team for Patched Together: A Day of Music recently presented a check for $18,239 raised to benefit the Home Nursing Agency Healing Patch: A Program for Loss and Hope for Grieving Children and Their Families. The Fifth Annual Patched Together concert was held in November 2016 with live music from a variety of local performers, Chinese auction and children's activities.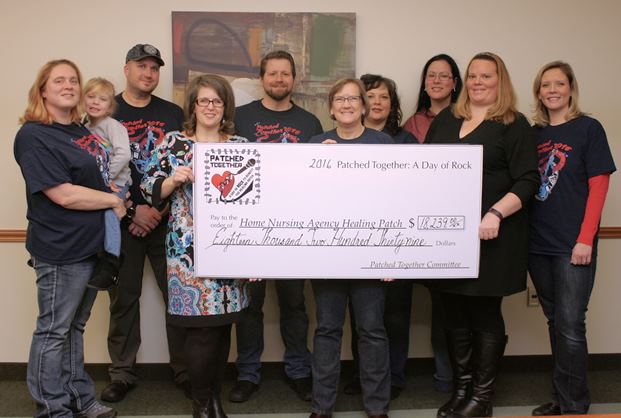 Pictured from left are planning committee members Rebecca Keefe; Mara Keefe; James Gerraughty; Allison Stockley, Home Nursing Agency volunteer and bereavement services manager; Kent Tonkin; Sue Richard; Melissa Tonkin; Jordanna Gerraughty; Gabrielle Cronin and Melody Ray, HNA volunteer coordinator and grief specialist. Additional committee members who are not pictured include Sherry Hayford, Andrea Hildebrand, Sue Lecrone, Kurt Roberts and Debra Welch. Many other volunteers were also integral to bringing the event to life.    
"We are thankful to Patched Together for this generous contribution and our on-going partnership," shares Kathy Baker, Vice President of Family Hospice, Part of UPMC Home Nursing Agency. Baker was integral with the inception of the Healing Patch in 2006 to provide local support for grieving children and their families. "The commitment and tireless efforts put forth by these individuals to support our Healing Patch and associated bereavement programs are truly amazing."
Started in 2011, Patched Together was created by a passionate group of volunteers whose goal was to ensure grieving children have access to the resources of the Healing Patch. Fueled by the volunteers' love of music and desire to showcase local talent for a great cause, Patched Together raises funds for the Healing Patch, increases awareness of the prevalence of children's grief and demonstrates how important it is to support those children and their families. Patched Together has raised more than $67,000 since 2011.
The Healing Patch provides peer mentoring and support services to children and families who have experienced the death of a loved one. Founded in 2006, The Healing Patch is supported by individual and community donations, local grants and fundraisers, and is staffed by volunteers. The services are provided free of charge to any child and their family. Centers in Blair and Cambria counties serve families from throughout the region. The Healing Patch provides a safe place for children to voice their grief and participate in activities with their peers who have suffered similar losses. 
For more information about The Healing Patch, including how to enroll for services or become a volunteer, call Home Nursing Agency at 1-800-445-6262. 
About Home Nursing Agency:
Serving more than 21,500 individuals of all ages throughout Central Pennsylvania last year, Home Nursing Agency is the region's premier not-for-profit provider of home healthcare, hospice and community-based services. Founded in 1968, Home Nursing Agency employs nearly 1,000 healthcare professionals who care for families with the highest quality of customer service. Home Nursing Agency's ability to serve Central PA patients, clients and families was strengthened with the integration as part of UPMC Community Provider Services in 2013. Home Nursing Agency is a United Way partner agency in Bedford County, Blair County, Huntingdon County and the Laurel Highlands.