4/12/2017 The Saint Francis University Community Blanketeer group recently collected a record number of 191 beautiful quilted, crocheted, knitted, and embroidered blankets that will be distributed to sick and needy children through the Healing Patch, Nurse Family Partnership (Home Nursing Agency), and local hospitals.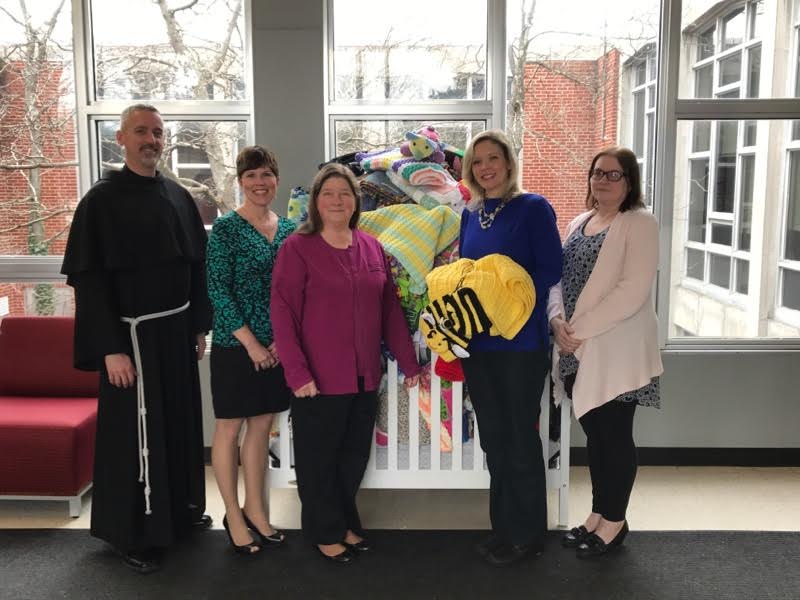 The Blanketeer group has been active on campus since 2006, and over the past eleven years have donated more than 1,390 blankets to local children in need in Cambria County and surrounding areas.  Each year the blanketeers focus on creating comfy, soft blankets for babies and young children. Special thanks to local community blanketeers from Altoona, Cresson, Ebensburg, Johnstown, Loretto, Portage, and Sidman for contributing to this year's blanket collection, and to Mary Hoover, Beth Hunt, and Clare Ann Lasinsky for sewing the blanketeer tags on each blanket.  It is through the generous efforts of so many individuals that this year's blanket collection was by far the most successful yet!
Pictured from left are Rev. Malachi Van Tassel, T.O.R., Ph.D., University President; Melita O'Donnell, Executive Assistant/Academic Affairs; Lois Schultz, Home Nursing Agency Cambria County Nurse-Family Partnership Supervisor; Melody Ray, Home Nursing Agency Volunteer Coordinator/Grief Specialist; and Dr. Robin Cadwallader, Professor of English/Communications.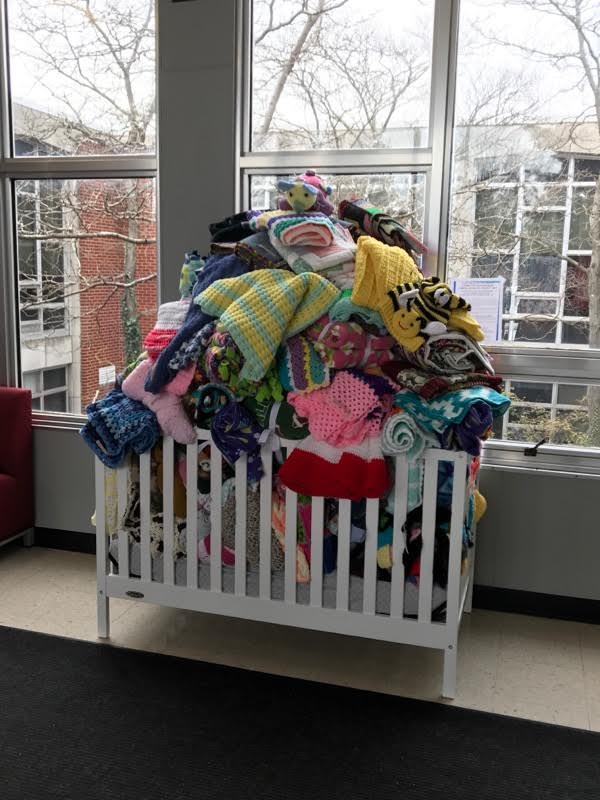 The Saint Francis group was formed by Dr. Robin L. Cadwallader, Professor of English/ Communications, and Dr. Margaret A. Kealey, Associate Professor of Business/Finance, with the assistance of Ms. Melita O'Donnell, Executive Assistant/Academic Affairs. 

Over the past few years, the Healing Patch has distributed the blankets in "comfort bags" along with various other items (i.e. tissues, a memory book, a picture frame, etc.) to children following the death of a loved one.  Additionally, the blankets have been distributed to Healing Patch participants during program activities around fears, worries, sleeping issues, etc. and sent home to provide comfort during the difficulties and isolation throughout the nighttime hours...a common struggle fo
r many young children during illness or following the death of a loved one.
Providing free, comprehensive educational, homecare, & mentoring services to first-time mothers, Nurse-Family Partnership® registered nurses will distribute blankets to newborns and toddlers within the program.  These special blankets will be used for warm swaddling, tummy play time, and creating cozy, snuggles with Mom or Dad.