Pediatric care program makes vital connection
2/21/2013
By Kim Smith
For the Mirror
Having a child in the hospital can be difficult for any parent, but the time following discharge can be highly stressful, too. When a parent is faced with providing extensive – and often on-going – medical care for a sick child, the Home Nursing Agency's Pediatric Home Connection can be a life-saver.
Wendi Nagle, director of the Home Nursing Agency's Pediatric Home Connection program, said the program's nurses work with a child's hospital prior to discharge to smooth the transition from hospital to home. The child's specific needs, as assessed by his or her physician and medical team, are incorporated into an individual care plan. Care is provided in various settings: the home, physician appointments and the school environment.
Nagle described the initial process to determine a need for services: "We would have a one-on-one conversation with a parent or legal guardian to see if there would be a skilled nursing need," she said. "If we determine there would be a need, our care supervisor goes out and makes an admission assessment."
Once a need has been established, there is an orientation introducing the nursing team to the child and family. Skilled nursing services are paid for by many health insurance policies. Private insurance and most Medicaid and waiver programs are also accepted. The program offers families a free consultation to assess eligibility of services.
The program helps children from birth who are stable enough to come home from the hospital through age 21 with chronic or life-limiting conditions.
"The majority of our patients have some form of cerebral palsy," Nagle said.
Some other health conditions of patients utilizing the program include congenital abnormalities, respiratory disorders, feeding disorders, spinal cord injuries, neuromuscular disorders, cardiovascular abnormalities and traumatic brain injuries.
Along with providing necessary medical care, the nurses offer a sort of respite to the parents of severely ill children. Nagle said many parents would be struggling without the service the Pediatric Home Connection provides.
"At the bare minimum in many cases, the parents would have many sleepless nights," she said. "This way, they can function, go to work and do the things they need to go about their lives. Our program enables the parents to keep their child at home."
The Pediatric Home Connection strives to prevent infection by providing patients' families with antibacterial products and gloves. This helps ensure the patient's health is not compromised by the spread of infection.
The nurses' skill sets are matched to each child's individual medical needs to ensure the best fit. Additional services and resources are also available via the Home Nursing Agency's Pediatric Home Connection program such as physical, speech and occupational therapy.
Serving 12 counties – Bedford, Blair, Centre, Cambria, Clearfield, Huntingdon, Franklin, Fulton, Indiana, Juanita, Mifflin and Somerset – Pediatric Home Connection nurses work 24 hours a day, seven days a week providing four-to-16 hour shifts, depending on patient need. Employees are carefully selected, Nagle said.
"We have a very extensive hiring process," she said. "I have a very high expectancy of the nurses out in the field.  They're highly trained and trustworthy."
Nurses must pass a screening process that includes a child abuse clearance and FBI and criminal background checks.
While nursing shifts are scheduled up to a month in advance, the Pediatric Home Connection accommodates changes in service needs.
"The program strives to be very flexible for the family, because their needs change," Nagle said. "Sometimes they change jobs or their schedule changes at work. We pride ourselves on meeting parents' and patients' needs."
Nagle said caring for children with severe health problems naturally initiates a sense of closeness among nurse, parent and child.
"They definitely is a bond," she said. "They do get very attached on both ends: the nurses and the patients. Also the parents, when you have somebody coming into your house and spending this amount of time, you want to make sure there's a connection.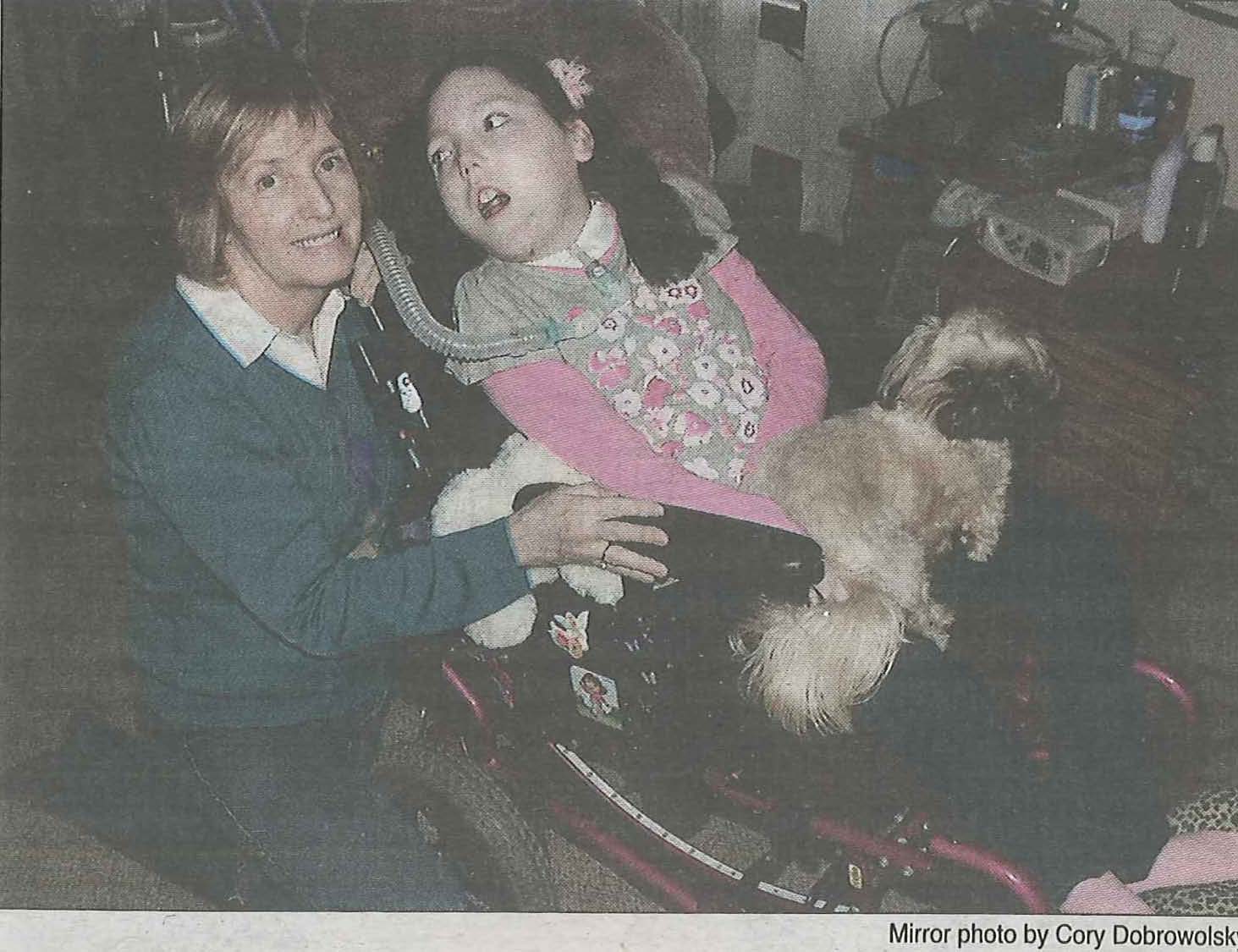 Lou Ann Clark is very grateful for that connection. A hospice nurse at the Home Nursing Agency, Clark has utilized the Pediatric Home Connection's services for nearly three years for her 13-year-old daughter Cierra, who has cerebral palsy.
"My husband and I always tried to do as much for Cierra as we could," she said. "As her health problems became worse, we realized we needed help."
Clark said Cierra, who uses a wheelchair and requires tube feedings, will need ongoing care due to her various medical issues.
"Cierra's been in Children's Hospital several times. In September, she had an emergency tracheotomy at Children's Hospital, and she is on ventilator. 2012 was a pretty rough year for us," she said.
Clark said she and her husband use the Pediatric Home Connection services during certain daylight hours when, because of work, the couple must be out of the house.
"During daylight, the hours are flexible," she said.
The night schedule is more fixed, with a nurse in place seven nights a week.
"They come every night so we can sleep," Clark said. "Generally speaking, it is the same nurse at night."
Along with the practical aspects of medical care, Clark said the nurses provide something invaluable-peace of mind.
"At nighttime when she needs something, they can do that. My husband and I can sleep. It's nice to go to bed knowing she is in good care, getting everything she needs and in very good hands."
 Clark said the Home Nursing Agency's Pediatric Home Connection program has made it possible for both she and her husband to keep their jobs, something that would be difficult if not impossible without the nurses.
"I don't know how I could continue to work, as well as my husband," she said. "One of us would have to lose our job to make sure she got the care she needed."
The nurses each hold a special place in Clark's heart.
"There are a handful that come, but they all know Cierra," she said. "They are wonderful with her – not just medical stuff, which is very important, but things she enjoys doing. Cierra enjoys music. One nurse plays guitar for her."
Clark said these special aspects of the Pediatric Home Connection program are a big part of what makes it special. "When you have a wonderful little girl like Cierra, you don't just want the technical things done," she said.
Click here to view a pdf file of how the article appeared in print.