7/2/2018 Altoona Mirror staff writer Walt Frank featured Home Nursing Agency's 50th anniversary in a recent story.

JUL 1, 2018
WALT FRANK
Staff Writer
This email address is being protected from spambots. You need JavaScript enabled to view it.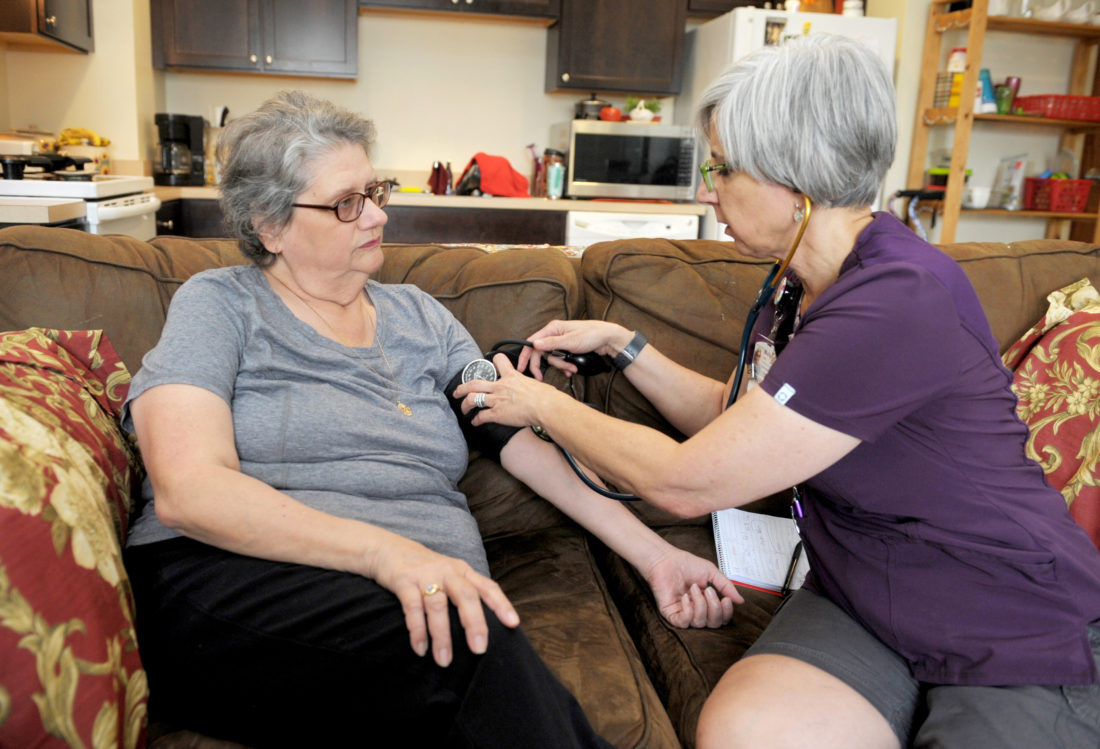 From its humble beginning in 1968 with six part-time nurses, Home Nursing Agency has grown into a trusted leader in the community health network, with nearly 1,000 employees serving more than 23,000 people throughout western and central Pennsylvania.
Home Nursing Agency — then called Blair County Collaborating Home Nursing Agency — was founded by a group of local health care leaders spearheaded by Dr. Michael Denny. Dr. John Sheedy was the first chairman of the board.
"The mission of Home Nursing Agency was to provide high quality care for people to remain in their homes. They realized people needed supplemental services for health care at home. They needed to be able to bring that level of care to someone's home rather than have them put into a facility," said Kimberly Helsel, HNA's director of development/marketing communications. "People heal better in their own environment, in a setting that is familiar to them."
Mirror photo by Gary M. Baranec
Home health registered nurse Michelle Jaso checks patient Nancy Shade's blood pressure inside of Shade's home. Jaso is just one of nearly 1,000 employees working for Home Nursing Agency, which celebrates its 50th anniversary this year.
"When he (John) was first introduced to it, he absolutely fell in love with it immediately. I remember him telling me 'I honestly believe that this is the future of healthcare for people. I really see this as being what we need,'" said Mary "Tim" Sheedy, Sheedy's widow, in a video produced for Home Nursing Agency's 50th anniversary celebration.
In 1970, Sheedy hired Sylvia Schraff as president and CEO. She held that position until she retired in 1997.
HNA experienced tremendous growth under Schraff's leadership, adding numerous services and expanding into Huntingdon, Centre, Bedford, Franklin, Cambria and Somerset counties.
"Other counties saw what Blair County had and wanted a similar arrangement. People from Huntingdon County approached us and asked how to start it. I gave them the materials that I could. They came back and asked if we could expand rather than go through the regulatory issues. They didn't have the means to get started. We established a branch office and an advisory committee so the people of Huntingdon were motivated. They would have a say in the growth," Schraff said. "Folks from other counties did the same thing."
"We grew by the needs of the communities. We had advisory committees in each county. People could have a say in what their needs were. Home Nursing Agency is unique to each county, to be responsive to what the community needs. The skills our clinicians have are incredible. They pick up on things so you can stay at home. Our nurses and therapists are top of the line," Helsel said.
The growing needs of the community included mental health services for patients being discharged from the Hollidaysburg State Hospital, a hospice program to support patients with life-limiting illnesses and their families, maternal child services and much more.
"When the Hollidaysburg State Hospital closed, that let a lot of people into the community who were not prepared. They didn't know how to pay rent and use transportation. We were able to start a program to help them, and it grew into a mental health program for the aging," Schraff said.
"I was pleased to be in a position where I could provide a full range of services to people in our communities. That meant that help was available for mothers and children, as well as other people with their unique health care needs. Doctors and hospitals began to depend upon us in order to take their patients home and still provide quality care," Schraff said.
In 2013, HNA was acquired as part of the UPMC acquisition of Altoona Regional Health System.
"We became part of UPMC Community Provider Services, which specializes in post-acute services," Helsel said.
The acquisition was important to HNA.
"This was huge, as health care has changed in the United States. The need to align with a bigger organization was important to streamline processes, increase efficiency and manage change," Helsel said.
"Regulations are always changing. Being an independent organization would be extremely difficult," Helsel said. "Being part of a large system, we have sources to back us in good times and bad times and have more resources available."
In early 2016, Family Hospice and Palliative Care, headquartered in Mount Lebanon, was integrated as part of Home Nursing Agency. The combined hospice program serves 4,000 patients annually and is the largest not-for-profit hospice provider in the commonwealth.
Paula Thomas, president of UPMC Home Healthcare, which is part of UPMC Community Provider Services, said there have been three keys to HNA's success.
"First, our ability to adapt and stay relevant within the ever changing health care industry. Second, we've been able to effectively respond to the needs of our communities through the development of a variety of non-traditional home- and community- based services. Lastly, I think our desire to continually improve and never be satisfied with where we are at has been critical to our success. I think that spirit has always guided us," Thomas said.
"The outstanding management and scores of dedicated employees are the reason. I have heard countless testimonies over the years of our caring, professional team members going well beyond expectations to provide outstanding care for those they serve," said Blair County Commissioner Bruce Erb, an HNA board member for 30 years.
Agency officials are pleased to see the organization reach 50 years.
"We are very proud to reach a milestone like 50 years and gratified to care for so many people in our communities over the years," Helsel said.
"I'm extremely proud of the agency reaching its 50th anniversary and grateful for the many high quality services provided for our community," Erb said.
Schraff said she is not surprised by the growth of HNA.
"I remember when Dr. Sheedy interviewed me. I asked if this was going to be just for the elderly. He looked at me funny. As we grew, we were able to do more for people than just the elderly," Schraff said.
The future of HNA looks bright.
"Our recent affiliation with UPMC Health System allows access to resources that we didn't have in the past, as well as opportunities to expand to other geographic locations. Ultimately, this means more opportunities for our employees and a greater ability for us to bring our various service offerings to the communities we serve," Thomas said.
"With the considerable resources of UPMC combined with the forward thinking leadership at the agency, the future is very bright," Erb said.
Mary Sheedy is thankful the agency exists.
"From the very beginning, he (John) saw Home Nursing being the future caregivers, that people could stay in their own homes — as I have done. It makes recovery so much simpler and quicker, and the really fitting thing was that, when John died, he was here in his own home with Home Nursing caring for him," she said.