When the Grief Is Yours: Facing Death as a Grief Specialist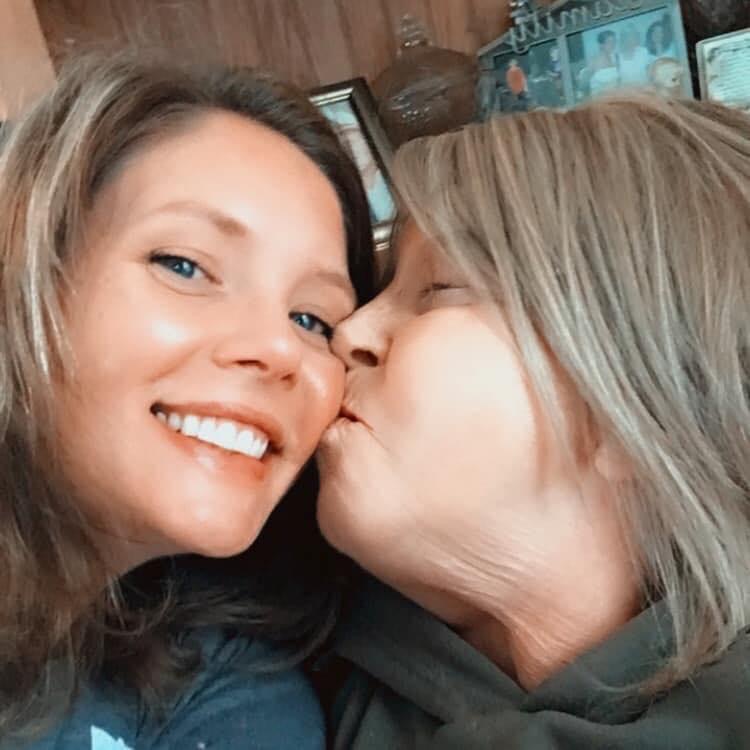 Shared by Melody Ray, Healing Patch Coordinator
I would like to start with a disclaimer. This is my personal grief journey. Just as everyone's relationship with the person who died is unique, so too is our grief. There is no exact right way to grieve no exact road map to follow… this is simply my path and perspectives gained.
Over the past nine years, I have worked in the children's bereavement field supporting children and families during what may be the most difficult time in their lives. I have companioned families through their grief journeys, listening, supporting, validating, and connecting them to others facing similar losses and feelings by attending a peer support group. My prior work in child welfare, foster care, and adoption also dove into the world of losses, some of which included loss of innocence, connection, routine, identity, and stability. I have found my social work career to be a transformative one and have always considered it to be a privilege to be able to support others during difficult life transitions and losses.  I found myself in this place of life transition and loss in December 2020 when my own mom was benefiting from Family Hospice care in her home. I am sharing my own experiences with her hospice care, as well as my evolving grief and perspective.
A Perspective on Death and Dying: "Death is part of life"
To give you a background on my mom, she was an introspective person. When I was a young child, she explained death to me in this way: "Our bodies are like a shell of a nut. They get discarded, but the special stuff inside the nut (or for us. our souls) is what lives on long after our bodies or shells are no longer needed." This analogy remains clear in my mind and continues to be a part of conversations I have had with my own daughters and with Healing Patch families trying to explain the separation of the body and soul to their children.
As my mom experienced close deaths in her life, she continued to maintain the attitude of "Death is a part of life. The sooner this is accepted and understood, the better." With time I realized that my mom wasn't negating grief, but rather acknowledging the normalcy of it and to take comfort in this.
A Hospice Journey  
Mom had a several-year cancer journey that ultimately resulted in the cancer metastasizing to her brain and other organs, causing her decline. It was her decision to start hospice care at home in early December 2020, when treatments were failing and recovery was no longer viable. Family Hospice provided the medical equipment, medication, and knowledge to us in this journey. My mom loved her hospice nurses and aide. She was appreciative, kind, and thankful for this service and no longer wanting to "wait for hours on end at a hospital where COVID was ramped and a cure for her cancer wasn't happening."
The choice for hospice was a natural one. Hospice care is not about giving up hope; it is about recognizing the reality that death is inevitable and the value of prioritizing how time is spent. My mom chose to have a peaceful death at home surrounded by the voices and hand holds of loved one's instead of the dinging of machines and voices of strangers. I am thankful she had the opportunity to make the choice to die at home and that our family was able to make this possible.
Anticipatory Grief and Being a Caregiver
From the time of her prognosis, I went through anticipatory grief. During the first year and a half, I would read and reread text messages she sent me, reflecting with thankfulness.  I treasured holidays, birthdays, and family gatherings even more so.  I would mindfully make increased efforts to appreciate walks, shopping trips, and talks. I would quietly cry mostly alone, like moments in the car when it hit me that her time was limited. I also faced the selfishness of thinking, "Who am I going to call when I am sick or not feeling well?" (My mom was the best comforter when someone wasn't feeling well: tea, toast, cuddles, sympathizing, and comforting symptoms were quite her specialty.)
The weeks prior to her death I laid on her lap and sobbed. I had moments of wailing at home and seeking the comfort of other family members. I was present as my mom faced her mortality by encouraging visitors to pick out a knickknack from her shelves, staring at a holiday card she received in the mail and stating, "this shows that I existed," as well as a period that I can best describe as hyper-spiritual agitation. She stayed up for 24 hours straight journaling God's blessings and spiritual words of wisdom. This was quite the experience for my siblings, our families, and myself that ultimately ended in peace for my mom.
My siblings and I took on the caregiver role for mom's care. Mom was always kind and loving, showing appreciation and making statements such as, "Thank you for loving me." She never got short, cross, or angry throughout the month.  As a retired nurse aide, I felt she knew how difficult caregiving is, and she did everything in her power to make the role more manageable. A calm was felt in her watching Hallmark Christmas movies and finding a new routine with her declining mobility. At that time and now looking back, I see the beauty in this time we had together. We shared with her that the legacy she created will live on, along with lots of homecooked meals, hugs, kisses, and cuddles.
Although there were so many terrible effects from the pandemic, my own personal life speed did slow down a bit, making the adjustment more bearable. The pounding of typical responsibilities had lessened and being realistic with managing time and energy was at the forefront. I can see this as a glimmer of positive in what has been a year of losses and transitions. This was also a stressful time and one that I honestly could not fathom in a longer-term situation. I wanted her for so many more days, but her body had other plans. As her quality of life declined, I then understood that death was ok, for this was no way for a body to live. This gave me comfort. Mom died on December 29th surrounded with family. Her last words to my 11-year-old daughter hours prior to her death was, "I love you bunches." My daughter included this sentiment in the note she wrote to be placed in my mom's casket.
The Ebb and Flow of Grief Emotions and How Others Support
I have found the analogy of grief being like the ocean to be extremely helpful. The waves are sometimes rippling just gently and kindly reminding me that they are there. At other times it is a crashing wall of water that makes breathing difficult. The first step in managing this was recognizing that it is a part of the grief process. I can brace myself and know the next tidal wave is coming. I know that no matter how fast I think I can get away, I can't. Running is a waste of energy. My energy is better served in allowing the wave to come while reminding myself it won't last forever and that smaller ripples are ahead – hope.
Many of us, myself included, take pride in our independence; however, when we are grieving, this can cause needless suffering. As words of love and support arrived, I appreciated them and truly felt the empathy and encouragement. Support can be different then you imagined it to be. In times of sorrow, it may not be who we think it would be supporting us. We sometimes have to seek the support elsewhere even if that means support groups, therapists, family, or friends' acquaintances who help to acknowledge your personal grief process. Sometimes the people we "think" would fill this role are grieving differently or they simply don't understand or know how to support.
The Hard Work of Grieving
I felt most unprepared for the energy grief consumes. Grief can, at times, be a black hole of soul-sucking energy. As if grief to death alone isn't arduous enough, throw a life-altering pandemic to top it off. Did I just sleep 10 hours, binge watch a show in its entirety on Netflix, forget 90% of my to do list, lose focus in 5 minutes? Yep, I did. I have come to realize that beating myself up over perceived shortcoming does nothing and only makes things worse. Shame is never the answer. I have found sometimes the most giving, kind, and understanding people can't extend these qualities to themselves. I am learning to give the grace to myself that I have always been willing to give others.
Coping and Finding Joy
The day my mom died I found the need to take a walk in the woods. I went back to early grief and life skills training to remind myself of the importance of self-care. I took deep breaths of the fresh air and felt the cool breeze and the brightness of the sun on my face. I allowed the tears to flow as they needed to flow and smiled when I needed to smile. In the depths of my pain, I allowed myself to feel the world around me and took comfort that despite my pain, the world somehow seemed to go on.
On my walk I came across a young couple in love holding hands, giggling, and enjoying each other's company. We crossed paths with a friendly "hello" and ended up at the hike's destination – a lovely waterfall – at about the same time. They were taking photos of the waterfall, and it was a lovely scene.  I asked them if they wanted me to snap a photo of them together with the background of the flowing waterfall. They excitedly agreed, thanking me. Amid my grief and sadness, seeing the beauty of young love spouting in front of me and allowing that joy to enter my heart was quite moving.
Through others' grief experiences, I have learned there is no "grief timeline" no "grief expiration date." I have learned that the pain will come and go. By expressing grief feelings, the intense ones will lessen with time; however, a grief trigger may bring on the very same intense feelings of the early days of grief. The loss is lifelong. There are no quick five or six steps, and you are forever healed. I allow joyful moments when I can and don't overlook them. The grief will be there again, but don't allow it to paralyze other life-fulfilling emotions. The day humbled me by seeing the beauty in the world and by showing kindness, we continue to carry the essence or torch of the ones that are no longer with us.
Gratitude and Grief
If I can think of one theme in my personal grief journey, it would be one of gratitude. Gratitude for every family that allowed me to companion them on their grief journey because they helped formulate my own perspectives gained. Gratitude for the oncologists and hospice doctors, nurses, and social workers who provided my mom's care. Gratitude for the time we were given by advances in cancer care. Gratitude for the knowledge and wisdom parted to me by my mom. Gratitude for the 42 years I had a mom on this earth. Gratitude for family and friends who supported my mom and me on this journey. Gratitude that I could be there and that I could support her through others' supporting me.  Gratitude for memories made, love given, and love living on. Gratitude for the ongoing rhythm of life: sunrises, sunsets, snowflakes, spring flowers, new lives, loves, and beginnings.  Gratitude with the understanding that life is loss and change.
I have found that sharing my journey with others through writing this post and other ways has been part of my healing. I invite you to share your grief story in the comments.
Melody Ray has been working with the Healing Patch Children's Grief Program since 2012 and currently serves as Healing Patch Coordinator. She has a Bachelor's degree in social work from Saint Francis University and Master's degree in social work from the University of Pittsburgh. In addition to attending various grief and loss trainings and webinars, Melody works firsthand with many local grieving families by companioning them and learning from their grief experiences
7 responses to "When the Grief Is Yours: Facing Death as a Grief Specialist"